Get Fit And Master The Sweet Science Of Boxing In Our Cardio Fitness Boxing Classes
Looking for a better way to train? We've got the answer at Keppner Boxing. Our Fitness Boxing Classes combine elements of high-intensity interval training and non-contact boxing drills to help you burn hundreds of calories and build total-body strength in no time.
Whether you're an accomplished athlete or just beginning your fitness journey, we've got you covered with classes that are truly high-energy fun.
Just fill out the short form on your screen to get started today or to learn more!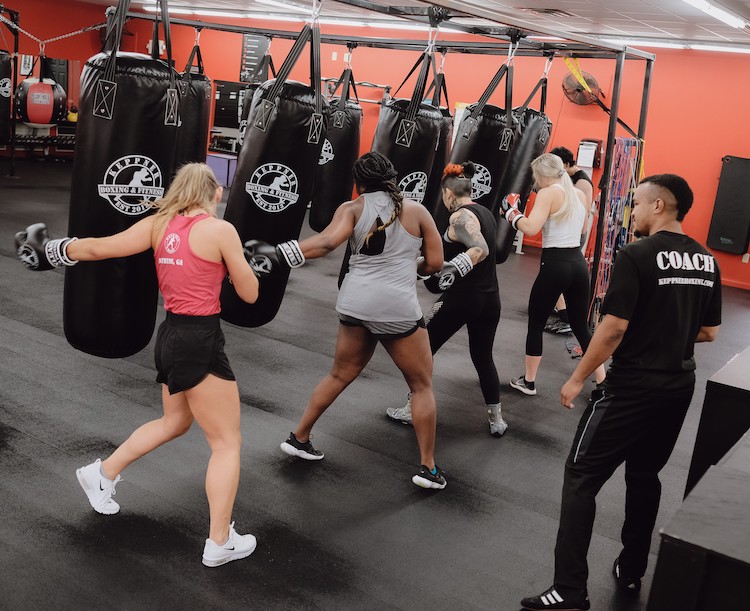 Our Fitness Boxing Classes Aren't Just For Incredible Results
With us, you'll learn effective boxing strategies from day one. Our Fitness Boxing Classes rely on techniques like bag work, pad work, shadowboxing, slip rope, calisthenics, plyometrics, sprinting and more to help you understand the sport and build your skills with each and every session.
At Keppner Boxing, you'll train alongside some of the most accomplished instructors in the area and you'll challenge your body and your mind with incredible workouts that simply can't be beat.
Our Fitness Boxing Classes can help you learn:
Fast, efficient and effective strikes
Proper form and strategy
Balance, coordination, and athleticism
PLUS, you'll walk away feeling more accomplished than ever before
Oh Yeah, And You'll Take On An Incredible Total Body Workout
We get it. You're here to get fit and we're ready to make it happen.
Our Fitness Boxing classes rely on a system of high-intensity interval training that keeps your body guessing and your muscles moving. No more quick-fix results. No more gimmicks, plateaus, and frustrations.
By relying on bursts of energy in 2-3 minute increments, we are constantly revving your body up and asking for your all before slowing it back down with 30-60 second of rest.
From day one in our Fitness Boxing classes, you'll feel challenged and motivated. But we have something for everyone, so beginners are welcome to jump on board.
We're proud to help men and women:
Take on total-body toning and strength gains
Enjoy sustainable fat burn and healthy weight management
Boost your cardiovascular health
Build self-confidence in everything you do
What are you waiting for?

Sign up for our Fitness Boxing Program, and also gain unlimited access to a variety of classes to help you stay motivated, fit and feeling great!

Bootcamp

This quick and intense workout focuses strictly on the strength and conditioning required for boxing beyond the bag work, pad work, and shadowboxing. A great addition for anyone looking to generally increase their overall endurance and strength as well as for competitive and aspiring boxers to focus on adapting their body for the sport

Focus Mitts

Take on the high-level skill work without taking a punch. Focus Mitts is all about improving your speed and efficiency while helping you understand the techniques of angles, spins, slips, weaves and more!

SkillBox

Focus on building up a strong foundation, reinforcing proper stance, movement and punches, as well as teaches basic defensive concepts. Learn real techniques without ever getting hit and obtain all the physical and mental benefits of Boxing in a friendly and supportive environment.

Corebox

30 minutes of non-stop high intensity Heavybag work and ab work combined together for a fun and challenging workout that you can't get anywhere else in Athens!
Take The First Step Today! Our Fitness Boxing Classes In Athens Have Something For Everyone!
Don't miss out on everything we have to offer at Keppner Boxing in Athens. We're proud to help men and women across our community get fit and feel great. Join us today for our cutting-edge Fitness Boxing Classes and get more from your workouts every time you train.
Just fill out the form below to reserve your spot before it's too late!
Request More Information - Program Page Form