We are so excited to announce that we were awarded The Best Martial Arts School in Athens GA! Big thanks to the Athens Banner Herald and Online Athens for holding the voting and hosting the award ceremony! This is the result of 6 years of putting in hard and consistent work day after day in our Gym in Athens. It's amazing how simply doing your best, day after day, has such a wonderful and cumulative effect. We could not have achieved this without our amazing members, staff, coaches and supporters. The Athens community has been so loving towards our business and we have done our best to return the love with the best quality service we are capable of.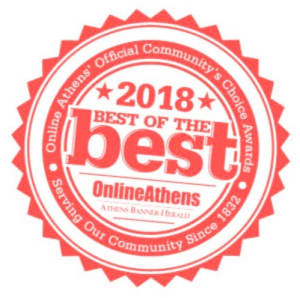 In this post, I would like to express some of my thoughts about why we did win and have achieved this status and popularity in our community as a business in a short time. First off, I don't really classify us as a Martial Arts School, but I'll elaborate on that later…
I believe that above everything else the number one reason we have succeeded is because of how we treat our clients as well as the culture we have created. This isn't to say that others don't have the culture we have, I'm just stating that I recognize this is probably number one. I have known Coaches who have trained just as many Champions or more, and are great at what they do, not be able to achieve the positive effect we have had on our clients' lives in a safe and supportive environment. I personally make it my duty to know every client's name out of our hundreds of members and treat everyone as a friend, because we are all on the same path; the path of life, and we all have so much more in common than not. The journey of Coaching and having a business has really taught me how to love people more than I ever have in my life and I believe that rubs off in our culture of Coaches, Clients and Staff.
I remember hearing that Athens Georgia is a weird town for Martial Arts and that nothing ever really takes off here. Well, we aren't the first to prove that wrong, but we have certainly been a part of that proof. To me, it really demonstrates that success and failure isn't the industry, it's what you do in that industry, and no matter if you're the greatest martial artist that ever lived, your gifts will die with you if you don't find a way to market what you do and grow your influence. I'm a student of business, influence, psychology, physical fitness, philosophy, self improvement and of course, Boxing. I believe that having Keppner Boxing has given me a place where I can actually utilize all of my interests into one place and I believe that all these interests have led to what I believe is a unique success. We often hear from clients that they've never trained anywhere quite like Keppner Boxing in Athens. People who have trained in every type of gym under the sun often tell us, we are a little special and unique.
Something that I believe separates us is that we are 100 percent committed to our business. And when I say committed I mean that in a few different ways. My wife and I don't have day jobs, and haven't for many years, this is our full time work. And it's been a hard struggle to get to where we are, but we both agree it has been well worth it. It's amazing what someone does when they have no other choice than to succeed. When you've nowhere else to go and nothing to fall back on, you tend to move forward and you tend to win. If you want to achieve something, burn the bridges that lead back to safety. This is the first type of commitment that we have. The second type, is that we specialize. We do one thing… Boxing. We don't even have kickboxing in our gym in Athens! We have Boxing for Fitness, Boxing for Competition, Boxing Boot Camp, Focus Mitts Boxing Classes, Fundamental Boxing Classes, Boxing for Parkinson's, Kids Boxing and Personal training for Boxing & Fitness. It's pretty amazing what you can do with just one thing and how many lives you can positively impact. While others generalize with 10 different Martial arts in Athens, we do one, and we do it extremely well. The more I become a better leader and business person the more I realize the power of focus. It's so easy to try and be everything to everyone, but in my experience the more you focus on just one thing, the better you get, the more people you positively impact and the more you are rewarded.
The last point I want to make is in regards to the category we won. When I was trying to pick a category for us to fit into, I couldn't really figure it out. We aren't just a standard place to workout at in Athens that you would find when you search "Gyms Near me" on google. We aren't an Athens Crossfit Gym (obviously LOL) and we aren't your traditional Martial Arts School. We don't have belts, uniforms, etc. When you walk through our doors no one knows what level you are, or what your status is. They know you by your name and personality They know you by WHO you are, not WHAT you are. What you learn in class isn't dictated by your level either. In our classes, you'll learn the same techniques that top level fighters use as well as solid fundamentals. I've been told personally by many that they feel they get more knowledge and a better education in how we train Boxing vs their forms of traditional Martial Arts training. No knowledge is held back for when you get promoted in belt, knowledge is freely spread to every student at every opportunity. This is one of the many things that makes our facility a little special. Even with our differences, the most fitting category for us is "Martial Arts School" and we are so honored to just be a part of that category and of course, we are extremely grateful, and we feel so blessed to have won it.
Our workouts are challenging for professional athletes and beginners alike. Our culture is about positive growth, mentally and physically. The amount of positive experiences we have had in our business over the past 6 years is almost overwhelming to think about. All the small victories people have had themselves, all the laughter, joy and even all the struggles, are so sweet now to think about. We started Keppner Boxing in Athens GA for many reasons, but now we are more focused and clear than ever before of what we want to accomplish. We want to positively impact as many lives as possible through the discipline of Boxing & Fitness in a safe and supportive environment.
That is our mission, and our mission has only just begun…